P3.91mm Indoor Rental LED Screen Popular Selling LED Display For Worldwide Rental Market

3.91mm pixel pitch LED display, 1,100nits+ brightness, 3840Hz+ refresh rate
High-definition visual effect
Lightweight and reliability LED panel
seamless assembling
Fixed and rental indoor installation
Popular selling from the year 2018
Silu`s P3.91mm Indoor Rental LED Screen is a kind of popular selling LED display for worldwide rental markets from the year 2018, which is made of aluminium die-casting technology LED panel as light as 6.8kg and size of it is 500mmx500mm or 500mmx1000mm, the P3.91mm 500mmx500mm indoor LED cabinet and P3.91mm indoor 500mmx1000mm LED panel is much more convenient for assembly and transportation, our P3.91mm popular selling LED video screen wall display is specially designed both for any of indoor rental or fixed applications.
The high-quality P3.91mm indoor rental LED screen comes at a 3.91mm pixel pitch and black body SMD2121 LEDs, that means it can deliver a great contrast ratio and brilliant image quality. Meanwhile, the high refresh rate can easily set up to or even more than 3840Hz, vivid video effect even in the professional camera.
P3.91mm Indoor Rental LED Screen LED Module Configuration
Famous Brand Black SMD LED Lamps
2 Layers 1.6mm Thickness Class-A PCB
MBI5153*/CH2153 High Refresh Driving ICs
Standard 250mmx250mm LED Module
6*Magnets Possibility for Simple Assembling
P3.91mm Indoor Rental LED Screen LED Cabinet Configuration
CNC Technology Die-casting Aluminum Material Frame
500mmx500mm or 500mmx1000mm LED Panel Size
Meanwell 5V40A Power Supply*
Nova or Colorlight Receiving Card* (Option)
Real Pure Copper Wire Cables, Safty and Long Lifespan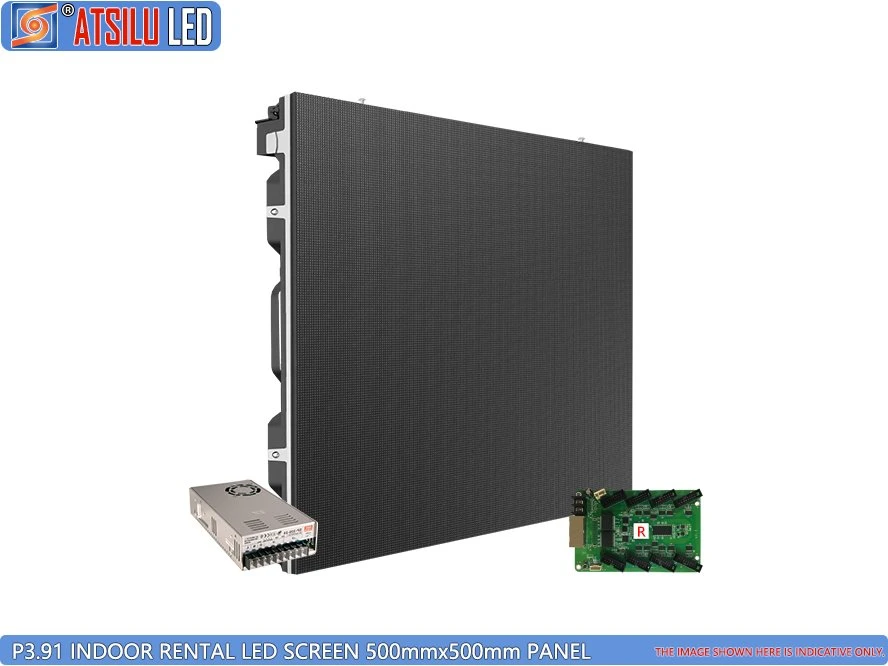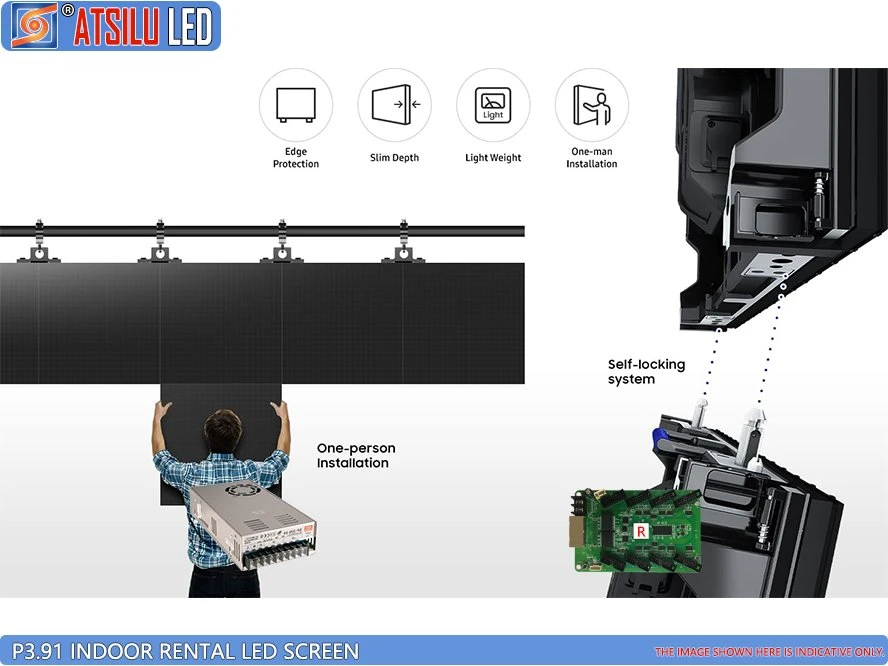 P3.91mm Indoor Rental LED Screen Description
Silu`s P3.91mm Indoor Rental LED Screen comes in a pack of 2x2 or 2x4 array LED modules assembling method, It runs on the Novastar or Colorlight control protocol and can be fully front and rear serviceable with easily accessible magnetic LED modules, it also can be mounted directly on a flat wall and features magnets in the frame which help in hanging the panel.
Our P3.91mm Indoor Rental LED Screen is made for high-end markets with excellent grey level and high contrast ratio, which ensuring your requirement on the output high-resolution images and videos and colour uniformity and fidelity come to true.
Built specifically to withstand the rugged demands of the touring and rental industry, the P3.9mm indoor LED display is a better choice of visualization solutions choice to offer amazing performance and quick install and maintenance. We bring new ideas to make your meetings and events even more engaging to bring the viewers a visual enjoyment.
High-quality LED Display product.
Lightweight LED Panel
Seamless Connection
Brightness output of 1,100 cd/m2
Black-body SMD LEDs, fine pixel pitch, close and wide viewing angle
MBI/CH high-refresh driving ICs, 3840hz high refresh-rate at least
Magnetic LED modules*
Easily replace and service
Great colour uniformity and fidelity LED video wall
High refresh rate and No ghost effect
The driving IC is using advanced technology MBI5153 or CH2153 for high performance and refresh-rate, it surely and easy to generate a speed of >3840Hz refresh rate to ensure the picture wrinkle-less, line-less and stable, it improves and removes the ghost effect.
Seamless Connection and Easy Maintenance
The CNC technology aluminium die-casting LED panel has less tolerance, the precision reach ±0.05m so as to achieve seamless assembly, stronger enough and better looking compared to normal cabinets.
The lightweight die-casting aluminium LED panel makes it easy to transport and it`s labour-saving, high efficiency and cost-effective.
With its magnetic front design, modules can be taken out by a simple push, intelligent connecting piece integrates many functions together, such as connection and fine adjustment of gaps, all for the convenience of customers.
Curved Capability and Creative Backdrop Design
The P3.91mm Indoor Rental LED Screen Panel surely allows for front installation onto a flat structure, maximizing installation flexibility. Besides, the concave and convex radian panel design (a +/- 15-degree angle adjustment lock built-in each standard LED panel) optional to create your unique and self-own indoor LED video wall.
Application Occasions Include:
Vertical Banners
Stage Backdrops
Multi-Display
Large Format Display
Digital Signage
Branding
Advertising
Product Release
Theatrical
Commencements
P3.91mm Indoor Rental LED Screen Specification
P3.91mm Indoor Rental LED Display
Pixel Pitch
3.91mm
LED Brand
Silu
Pixel Configuration
1R1G1B
Pixel Density
65,536 Pixels/m²
LED Module
250mm x 250mm (9.843" x 9.843")
64 pixels x 64 pixels
LED Cabinet
500mmx500mm (19.7"x19.7") or 500mmx1000mm (19.7"x39.4")
(128 pixels x 128 pixels or 128 pixels x 256 pixels)
Material: Aluminum
Steel: /
Aluminum: < 8Kg or 15Kg (< 17.6 Lbs or 33 Lbs )
Working Voltage
AC220V±10%; AC110V±10%
Power Consumption
Average 384W/m² / Max 800W/m²
Maximum Brightness
> 1,100 cd/m²
Refresh Frequency
> 3840Hz/S
Change Frame Frequency
60Hz~ >60Hz
Drive Mode
1/16 Scanning
Total Colors
281 Trillion Colors
Grade Level
RGB 65536 Grade
Best Viewing Distance
3m~>100m (10ft~>600ft)
Best Viewing Angle
Horizontally 160° / Vertically 140°
Screen Lifetime
> 100,000 hours
Protection Level
Front IP43 / Rear IP31
Control System ¹
Simple LED Video Control System or Advanced LED Video Processor
Ambient Temperature
-40°C ~ 60°C (-30°F ~ 150°F)
Relative Humidity
10%~90%
Input Signal
RF S-Video RGB RGBHV YUVYC etc.
Brightness Adjustment
256 levels of each colour (RGB) can be adjusted manually and 8 levels of each colour can be adjusted automatically. Optional control system: 256 levels of each colour can be adjusted 100% automatically. (8bit / 16bit / 18bit / 24bit)
Package Material
Wooden Case / Flight Case
Warranty ³
2 Years (3 Years for Cree and Nichia)
WIFI/LAN/WAN/3G/WIMAX control system is available upon request.
The intelligent multifunctional card is available with an automatic brightness sensor to save energy including an outside temperature sensor.
Three years warranty extension program available for High-Quality Lightweight P3.91mm Indoor Rental LED Screen.